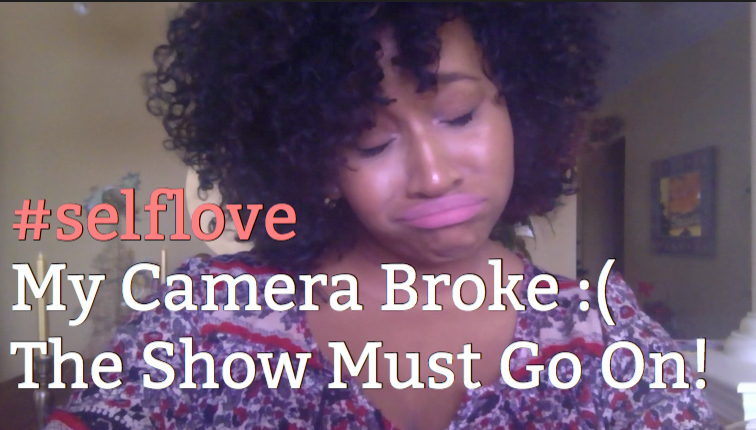 Happy Self Love Saturday!
My camera is broken 🙁 It hurts me to type that. I gave it in to the repair shop yesterday and all the camera stores I went to gave me the same report that it would take 3-6 weeks because of the holidays…womp womp :(.
But as disappointed as I am the show must go on. That was the lesson for me this week, regardless whatever bumps, heart aches, unexpected repairs, and whatever other BS comes in your way, the show doesn't stop! You have to keep going.
What is "the show"? The show is your goals, your dreams, your long term plans, your true self, your best self, it's the thing that is most important to you — The path to this doesn't stop because of stress, depression, defeat, financial strains etc. Stay focused on the course, deal with the problems as they come in the best way possible, in the way that serves you in the end. Learn the lesson, grow and prosper! All week that message has been slapping me in the face, asking me "what is important to you? Why? How will you do it?"  I have a cough/cold right now and I had an audition yesterday where I had to sing SING 4 songs. So I tied my boot straps tight, drank all the tea my pantry had to offer, hot tottied my way to bed every night and sweat through all the layers of clothes I had on to make sure something resembling "Andrea the singer" would show up to my audition.
My camera's broken but that doesn't stop me from posting and talking about my weekly Self Love Message because it's not about my camera in the end, it's not about a super polished image and a bunch of likes, it's about my journey and talking about it with the community of people who have constantly encouraged and inspired me to keep going.
The show must go on.
Today my message to you, is no matter what you're going through, stay focused on the long term goal,  take a deep breath, talk to a friend or family member if you can't solve the issue on your own and aim for success. Your goals don't stop, your growth don't stop. YOU don't stop! The show must go on.