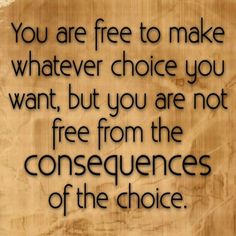 Happy Self Love Saturday. Today I'm talking about choices.
Lately I've been analyzing my choices and why I do what I do, where it stems from? What these choices say about who I am, and what I want in my life and as well what my choices are highlighting about my mistakes?
Why does "drama" and stress come into my life,  And did I make a choice to invite it in? Because I really do believe that even in the negative or not so good things that happen in our lives we still had a choice in how we dealt with it and sometimes we had a choice in letting it in all together.
How many of us say, I don't like "drama" but still have friends, people or situations regularly in our lives that invites drama or we may in directly find ourself involved?
I'm naturally very maternal and I find that along with this trait comes my need to help solve and fix the problems of others, especially if I feel like I have a lot of knowledge or understanding of the scenario. I'm also an empath,
Being an empath is when you are affected by other people's energies, and have an innate ability to intuitively feel and perceive others. Your life is unconsciously influenced by others' desires, wishes, thoughts, and moods. Being an empath is much more than being highly sensitive and it's not just limited to emotions
I will easily scroll through my twitter or Facebook feed and read 2 or 3 stories, watch a couple videos and be in tears for a multitude of reasons. And my intuition is literally like a wifi signal for my friends moods and problems. I'm only realizing now that I'm like this, and in order to not feel overwhelmed with the problems of others I have to protect my energy and time because I will easily give myself to people and situations that can  drain me. I'm still learning this lesson and adjusting it regularly though.
I recently experienced a situation where my time and effort were taken for granted and the best way for me to explain the way I felt was, played. I was definitely disappointed, but my intuition kept saying to me in this moment "you played yourself". Somewhere in this situation, I let my maternal instinct get the best of me and I made the choice to give my energy and my time. I made the choice to be forthright and involved in a way that I should've known would naturally put me in a place of vulnerability because I would end up expecting reciprocation or face disappointment. But either way my maternal and empath ways were going to end up depleted and I didn't need to be. I made the wrong choice. I should have made the choice to help from the sidelines instead of carrying the baggage of someone else.
But I couldn't help but ask myself why I made this choice? Why did I set myself up for disappointment? Did I not listen to my intuition or did my ego think I was capable of fixing something that was meant to be a lesson for someone else? I'm still not sure to be honest but all I know is somewhere I made a choice and the choice has made me analyze a simple and subtle problem that I think could've been avoided. I don't like stress and drama but I walked right into it, I opened the door wide open and invited it in, so being annoyed in the end is no ones fault but my own.
But the loop hole that I missed has made me think, and think and THINK about what my choices say about me and how do they help me to move ahead in life? Do I make positive choices for myself? Am I self sabotaging even within a good intention because I am ignoring clear signs of "drama"? Sometimes self sabotage is not as obvious to us as we think it is, and one simple choice can lead you down a wrong path.
There's nothing wrong with helping your friends, and there's nothing wrong with being empathetic but taking on baggage, or parenting grown ups, these are choices that can lead to problems. And even within a good intention you can be making the wrong choice. A good intention should help both me and you in the end and that's not being selfish, that's just being smart.
I sincerely hope to learn and have a better understanding of my choices in 2017 and to leave the unintentional drama and stress behind.
 Have analyzed your choices? How have your choices affected you? Let me know in the comments below and have a wonderful Self Love Saturday & Christmas Eve! xo